The Britt Nelson Visiting Artist program
This program brings professional artists into Gordon's classrooms. Students work alongside these artists, who lead them through projects that mirror the process of the artist's own work. While learning new skills, students draw larger lessons from these professionals, individuals who have found a way to stay engaged in the arts, and in the world of ideas, throughout their adult lives.
As part of the residency, each visiting artist gives a presentation to all three divisions of the school. These presentations are open, so that parents, alumni and the general public can share the Gordon students' experience.
The Britt Nelson Fund was established in 1996 in memory of Britt Nelson, the mother of three Gordon students and wife of a Gordon graduate. Income from this fund provides for an annual visiting artist, giving Gordon students an opportunity to immerse themselves in one of Britt's quiet passions: the creative world of self-expression. The fund also provides for two annual faculty travel grants.
The twenty-third Britt Nelson Visiting Artist was David Allyn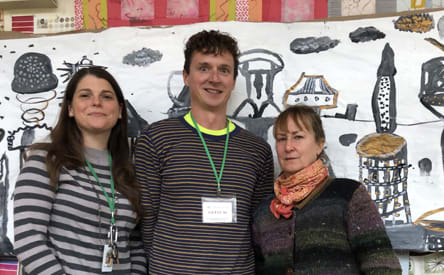 David Allyn (above center) was at Gordon in 2020 as the
twenty-third annual Britt Nelson Visiting Artist.

David Allyn is a visual and performing artist whose work has rich connections to the Providence arts community. While earning an MFA in ceramics at RISD, he discovered Providence's lively, interdisciplinary arts community. He founded the ceramics studio at the Steel Yard, a nonprofit serving the sculpture and industrial arts community, and his ceramics draw on Providence's rich architectural history.
This is the twenty-third residency sponsored by the Britt Nelson Fund, which was established in 1998 to support Gordon's commitment to hands-on art education.
An excellent short documentary on David and his work is at https://networksrhodeisland.org/david-allyn/

Below is a summary for each week of Dave's residency:
Since its founding, the Britt Nelson Fund has brought the following artists to Gordon's classrooms: